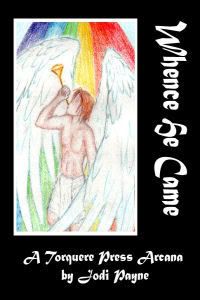 Whence He Came is an m/m short story being released as part of Torquere Press' Arcana Line, and is based on the Tarot card, "Judgment".

Elliot has been living a lie in New York, letting his friends and family think he's a wheeler-dealer in the real estate game. When he leaves New York to return to his small town home, he's relieved to see that no one knows any better about his life, and that some things never change.

The one person who has changed is his high school boyfriend, Tony. Tony's not willing to take a chance on the man who left him high and dry to go to the city, no matter how much Elliot wants him to. What Tony knows is what Elliot has to learn; only the truth can bring them back together again.

Excerpt:

Elliot Cohen stepped off the four o'clock train from the city and onto a concrete platform. Seven years ago he would have stepped directly into the miserably cold December rain, but in his absence the town had constructed a solid, covered platform where there used to be nothing more than a four-foot-high, wobbly, wooden deck and a set of narrow, aluminum steps.

Back then, he would also have been the only one disembarking at this hole in the wall station, but today he was one of perhaps thirty people. A small, suburban town could really grow up in seven years.

He gave his sleek, black, roll-away suitcase a sharp tug to get it moving and then made his way through the small station to a set of sliding glass doors, where he was just as surprised to discover escalators leading down to the parking lot. The whole arrangement had him shaking his head in amazement. When he was a kid there used to be a never-ending set of concrete steps where these escalators now resided and whenever he and his buddies went anywhere by train, they used to jog up the steps singing the theme to Rocky.

When he'd left home there had been only two taxis in the whole town, one driven by Mr. Papadopoulos, and the other driven by Mr. Papadopoulos' brother-in-law, Mr. Vasileiadi. If you wanted a ride you had to call and leave a message with Mrs. Papadopoulos and she would make sure one of the brothers came by to pick you up. Between the new station and the taxi stand with its line of four waiting cabs, Elliot was starting to wonder if he'd gotten off at the right stop.

Unless the town had also invented teleportation while he'd been gone, Elliot remembered it was a twenty-minute walk to Main Street. Walking that distance in the pouring rain sounded less than appealing, so he headed for the taxi stand. He could have called his mother to pick him up, but he still wanted this to be a surprise visit.

"Where to?" The driver asked, taking Elliot's suitcase and putting it in the trunk for him.

"Twenty Sawyer Lane."

"That's out behind the high school right?"

Well at least that hadn't changed. "You got it."

"Hop in."

They left the train station and headed toward downtown and Elliot found himself compelled to ask, "Do you know George Papadopoulos?"

"Who?"

He ought to have known better. "Never mind."

Elliot was home, but it was nothing like how he'd left it.

Excerpt copyright Jodi Payne. All Rights Reserved.

Buy Whence he Came here.